Back in December, the Bearcats managed to sign their recruiting class of 23 players.  They've added two, huge transfers to get to the limit of 25 new players for the 2021 version of the Bearcats.  We'll examine these new players and who's most likely to contribute in 2021.

How about them #Bearcats⁉️

Cincinnati officially inked 23 signees during National Signing Day. Can't wait to see these guys in action in the red and black.

🔗: https://t.co/pMIrN46MvZ#CinCityPride21 pic.twitter.com/htEnAwwLkE

— Cincinnati Football (@GoBearcatsFB) December 17, 2020
Coach Fickell and has staff managed to sign their entire recruiting class in the early signing period back in mid-December.  This was big for the Cats as they've had some attrition on the coaching staff, that we'll examine in a later article.  As of the writing of this article, Defensive Coordinator Marcus Freeman has left to take the same role at Notre Dame, RB Dan Enos has left to be the Offensive Coordinator at Maryland, and there are rumors that Offensive Coordinator Mike Denbrock is rumored to be heading to Vanderbilt.  Getting these players committed before "silly season" as it's called is huge, as these guys are going to remain Bearcats, rather than re-opening their recruitment.
Defending the Republic of Cincinnati
One of Coach Fickell's strengths has been recruiting what he calls hometown heroes and heavily recruiting a 300 mile radius around Cincinnati.  This year's class features 7 Hometown Heroes and 16 players within a 300 mile radius.
Defensively, they add Leroy Bowers a linebacker from Princeton High School.  He'll play the Sniper for the Bearcats (pending defensive approach), which is a linebacker safety hybrid.  Jarrell White filled that role for the past 4 years and Ty Van Fossen will be starting in that position in 2021.  Dontay Corleone, the godfather of Colerain High School will play Defensive Tackle, he's an absolute unit coming in at 6'2 305 lbs as a freshman.  Cameron Junior, who's father played for Alabama and in the NFL, will play OLB and hails from Middletown High School.  Rounding out the hometown hero Blackcats is Iesa Jarmon from LaSalle High School.  He will play cornerback for the Bearcats and joins a list of LaSalle players to join the Bearcats.
Offensively, the Bearcats have hit the recruiting trail hard for local offensive linemen.  Mao Glynn from Walnut Hills High School, will play offensive guard for the Bearcats as well as Landon Fickell from Moeller High School.  Landon earned a scholarship and is not a walk-on for the Bearcats offensive line.  His position coach Ron Crook fought Coach Fickell to sign his son, and ultimately Landon decided he wanted to be a Bearcat, he had interest from Pittsburgh and Louisville.  Finally, a guy who could be the next great Bearcats Left Tackle, Luke Collinsworth (no relation to Cris, thank god).  He's 6'6 and 310 pounds coming in as a true freshman.  Gone are the days of developing smaller offensive linemen, this coaching staff is bringing in kids with college ready bodies and it paid dividends this year, when they started true freshman Jake Renfro at Center for the second half of the season.
The Rest of the Class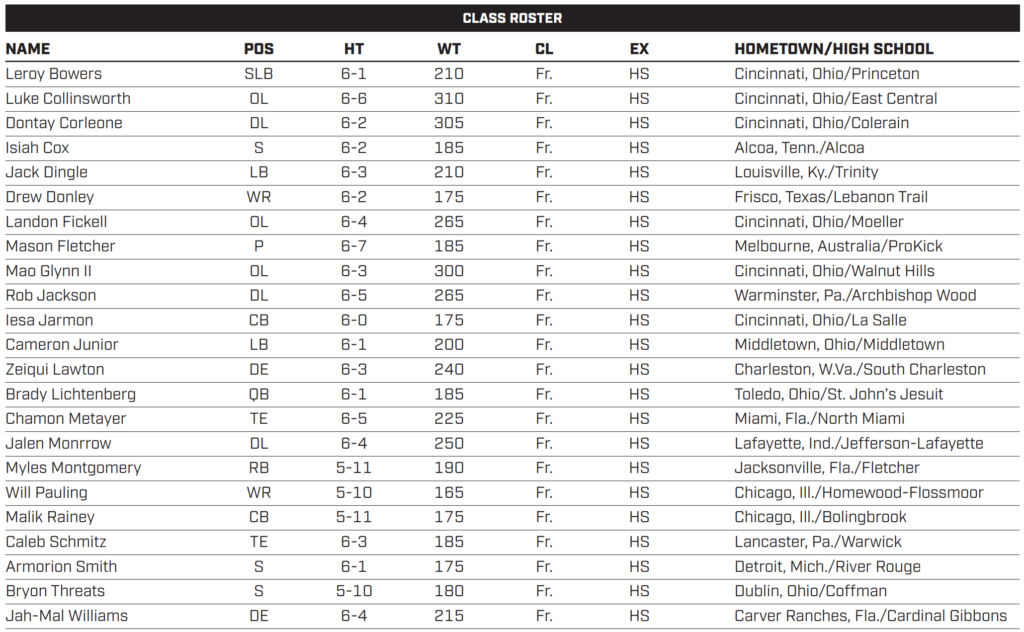 There remains a few more interesting connections in this class.  LB Jack Dingle from Louisville followed his brother Jacob to the Bearcats as well as his father Nate, who played for UC in the early 90's.  TE recruit Chamon Metayer is likely to be the next big Bearcats TE after Josh Whyle.  He is 6'5 and 225 lbs, and is also a Basketball standout from Florida.  He had a triple double in a game this season, so he should have opportunities to show off his athleticism.  The biggest contributor next year is likely to be Punter Mason Fletcher.  He comes in from ProKick academy in Australia, and looks to replace our current Aussie Punter, James Smith.  Fletcher should be penciled in as a starter and we may see a few of the others contribute on special teams and occasionally as a back-up.  With how much talent returned on the Bearcats roster, we shouldn't need any of these guys to contribute this season.
Big Transfers
The Bearcats left two spots open for some big name transfers.  Jowon Briggs, a former standout for the Walnut Hills Eagles will join the program as a defensive linemen.  He was effective at Virginia the past two years, having 20 tackles and 3 sacks this year, and 19 tackles and 1 sack his freshman year.  He'll have two years remaining as a Bearcat and he'll be a big contributor for the Blackcats defense next season.
Next Chapter, New Begins, Same Work‼️‼️‼️ pic.twitter.com/0NhDnXyoeM

— Jowon M. Briggs (@briggsjowon0) November 25, 2020

Left tackle became a priority to upgrade after James Hudson left to join the NFL after starting 11 games as a Bearcat and playing 10.5. The need for an upgrade at LT was evident after Hudson's ejection in the Peach Bowl, which I proclaimed at the time was going to cost us the game.  Lorenz Metz has potential, but he's not ready after only having played football for about 3 years in his life.  The Bearcats sought out a replacement in the transfer portal and found James Tunstall.  Tunstall originally committed to UConn in 2017 before making his way to Division I-AA school Stony Brook. Tunstall is a massive dude, coming in at 6'5 and 305 pounds. He was a Division I-AA All American at Stony Brook, so he'll come in most likely as the starting LT for the Bearcats for the next two seasons. The Bearcats went the FCS route in the past, with Dino Boyd from Rhode Island and it payed off for them in 2018.
To God be the glory ❤️🖤 #LLD🕊🖤 #Blocking4DC pic.twitter.com/nDBNXvWAx6

— James Tunstall (@OT_james53) January 6, 2021

In the Works
Season ticket deposits are live and renewals for existing season ticket holders starts on 1/19.  The Bearcats have a great schedule for next year and a lot of players are returning including QB Desmond Ridder, LB Darrian Beavers, and CB Coby Bryant.  It'll be an exciting season, so punch your ticket!
The Bearcats social media team put out some great videos for signing day for each player, you can find them in this thread.
🚨 𝗜𝗧'𝗦 𝗧𝗜𝗠𝗘. 🚨

National Signing Day Coverage begins…
𝗥𝗜𝗚𝗛𝗧 𝗡𝗢𝗪❗️#Bearcats | #CinCityPride21 pic.twitter.com/eQJ0Q7fxBd

— Cincinnati Football (@GoBearcatsFB) December 16, 2020
I'm going to examine the changes to the coaching staff once they are finalized and I'll put out a way too early two deep depth chart and roster assessment in the next couple weeks.
Juncta Juvant!