Find out more about us or make plans to join us for our next tailgate, on The Grid or on the road! Go Bearcats!
---
Next Tailgate:
11/25/23 – Kansas Jayhawks @ Cincinnati Bearcats

Councilman Barnett here filling in for Mike this week while he's visiting Central Florida fans at their workplace.

Unfortunately, after a hot start to the season, the Bearcats have really fizzled out down the stretch, looking at a last place finish in their first year of the Big12. A Bearcats win and a Houston loss is the only way to move their way up the rankings and a tough test against Kansas looms this Saturday.

It's Senior Day and the last game of the season for the Bearcats. We aren't going down without a fight in this one! Rally the troops and head to The Grid this Saturday and support the Seniors, many of which had a lasting impact on this team over the last few seasons.

We'll be there and the beer will be cold. Come wash down the post Thanksgiving with The RoC and as always Go Bearcats!



---
Latest :
We aren't going to talk much about last Saturday's game at Nippert. It's Big Noon Saturday and Big Noon Kickoff at Nippert Stadium! The Bearcats will have the odds stacked against them at Noon on Fox. Will the Bearcats defense be able to slow down former Central Florida foe Dillon Gabriel?
The Bearcats took the trip across I-70 last week and sang Sweet Caroline the whole way home after defeating the Panthers at the Formerly Known Hines Field 27-21. This weekend, the Bearcats look to extend their winning streak against the Redhawks to 17 straight at Nippert Stadium in a Nipp at Nite match-up. Will this be the year the Redhawks end the streak? We'll find out under the lights of Nipp at Nite (7:00 PM ESPN+)
After securing a 22nd straight Nippert home opening victory, the Bearcats head east to a former Big East Rival. Big 12 Offensive Player and Newcomer of the Week Emory Jones looks to lead the Bearcats to a victory at The Stadium Formerly Known as Heinz Field. The Bearcats are an underdog heading to Pittsburgh to face the Panthers (6:30 PM, The CW (not a typo, I promise.))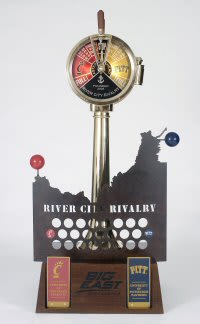 As the sting of a disappointing season and an unexpected defection have worn off through the summer months, the time has come. After 228 days, the Bearcats will take the field on Saturday against the Eastern Kentucky Colonels at 3:30 at Historic Nippert Stadium. The first game in the Bearcats inaugural Big 12 Season should be a good litmus test for the season.