2021 was an AMAZING season for our Bearcats and we want to do our part to keep the momentum rolling into 2022! With the team reporting to Camp Higher Ground in early August, we're excited to announce our first official Republic of Cincinnati event of the new season: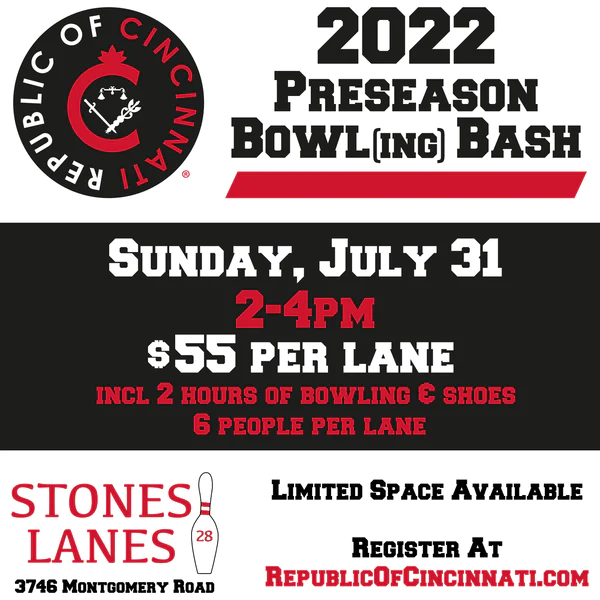 What: Republic of Cincinnati 2022 Preaseason Bowl(ing) Bash
When: Sunday, July 31, 2022 – 2-4pm
Where: Stone Lanes – 3746 Montgomery Road, Norwood, OH 45212
Who: All Bearcats fans are welcome – bowling is limited to the first 12 lanes! Not a bowler? Totally fine – hang out and catch up over a beer!
We've partnered with our friends at Stone Lanes to host our first "tailgate" of the year! Cost to join in the fun is $55 per lane, which includes 2 hours of bowling (shoes included) for up to 6 people per lane. Food and drinks are not included, but we highly recommend that you patronize Stone Lanes, a great local business and friend of our tailgate!
This will serve as a dual purpose event – not only an opportunity to catch up with friends for the first time in months, but also a fundraiser to help cover the costs of new trailer upgrades, including a new generator! If you're unable to attend but still want to support the cause, we welcome contributions!
The trailer will be parked outside, we'll have Republic of Cincinnati merch available (including our soon to be released 2022 shirt!), and we may even have some surprise visitors…more details soon 👀.
Questions? Hit us up on twitter or comment below.
Update:
The first 12 registrants will receive a FREE Republic of Cincinnati (black/red/white City of Cincinnati) car flag from our friends at 513Shirts!