I was writing last week's email when the news dropped that our game last week against Tulsa was postponed until 12/5.  As of today, it sounds like everything has worked its way out and the Bearcats are in good shape for this Saturday's game against the SMU Mustangs.
Corona Cats
Since my last email, UC has had some trouble with the new coronavirus protocols for this season.  UC doesn't publicly announce positive tests for players, but the following players missed the last game against USF.
Starters:
OG Vince McConnell
Back Ups:
QB Ben Bryant
OT John Williams
OT Lorenz Metz
DE Blake Bacevich
All of those players returned to practice last week, but on Wednesday they started having more issues which led to last week's cancellation.  We will see how things go throughout the week, but don't expect to hear much in terms of player availability for this weekend's game against SMU.
Running (off) the Bulls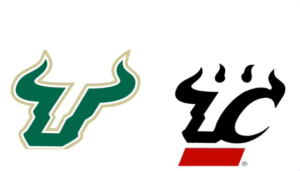 At the time, the #15 Bearcats handled USF, despite another shaky week from QB Desmond Ridder.  Des finished the game 16/26 for 143 yards, 2 TD and 3 INT.  Des continues to make bad decisions to force bad plays.  Gerrid Doaks had another strong game, rushing 22 times, for 102 yards and 1 TD.  Sophomore Tre Trucker also had the first kickoff return for a Touchdown since Ralph David Abernathy IV returned a kick in the 2011 Liberty Bowl.  He got to bang the TD drum in celebration.
USF was completely outmatched by the Bearcats defense, who continues to receive national rave.  The Bearcats currently have a top 5 defense and it's even more impressive when you throw 14 points they gave up with their 3rd team defense in the Austin Peay game.  USF had 4 different players throw a pass in a game that wasn't as close as the score showed.
The Bearcats did not cover the spread as I predicted, winning 28-7.
Wild Horses
Yours truly was in attendance at Gerald J Ford Stadium in 2018 to watch the Bearcats take on SMU. True freshman Cole Smith drained a FG as time expired to push the game to OT.  Now senior 
James Wiggins gets a walk off pick 6
 in Overtime to knock off the Mustangs at home in 2018.    I think Cole Smith drains another kick late in the 4th to seal the victory for the Bearcats.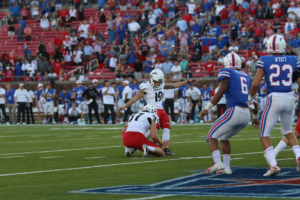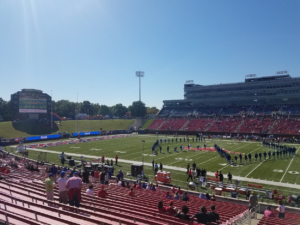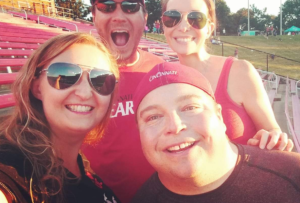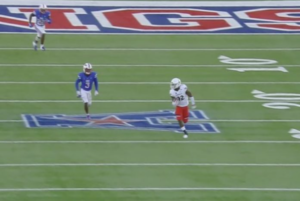 After UC's game on 10/17 against Tulsa was postponed last Thursday all eyes moved to another tough road match up against the SMU mustangs.  The Bearcats come into this week ranked #9 in the AP Poll and #10 in the Coach's Poll, falling a spot despite not having played.  SMU rolls into this week 5-0 #16 in the Nation in the AP and Coach's Poll.  The game is 9PM on ESPN2.
The Mustangs are 2-0 in conference play having knocked off #25 Memphis (more on them later) and narrowly avoided disaster against Tulane.  SMU kicked a game winning FG against Memphis with 9 seconds on the clock and a FG in Overtime to knock off the Green Wave.
The Bearcats were 2 point favorites as the odds opened up in Vegas, but the money has forced the Bearcats to a 2 point underdog.  This game is going to be a litmus test for UC's Defense.  SMU QB Shane Buechele, a transfer from the University of Texas, is 2nd in overall passing yards in the NCAA with 1710 and 3rd in passing TDs with 12.  They come in a little beat up, however, with their top WR Reggie Roberson Jr. and 2nd leading rusher TJ McDaniel out for the season.
There's a lot of questions in the air about UC's offense.  Des Ridder hasn't been getting it done, so I look to see Ben Bryant take some meaningful snaps in this game, as long as he has been able to practice.  SMU's defense has struggled in 3/5 games this season including a game against Texas State.  I think Ben Bryant comes in the second half and gets the Bearcats offense going and leads us to a 31-30 victory against SMU.
 Looking into the Future
UC's next matchup is set for a "booky gary" high noon match-up, Halloween on ESPN or ESPN2.  This will be another big test for the Bearcats, as the Tigers just knocked off UCF 50-49 at the Liberty Bowl in Memphis.  My confidence is going to be 100% based on how the Bearcats handle the Mustangs this week.
Our game from this past weekend was rescheduled to 12/5 against Tulsa as well.
Go Bearcats!