10/04/19 – UCF Knights @ Cincinnati Bearcats
After a 52-7 drubbing of the Knights to welcome them to the conference in 2015, UCF now has won 3 straight against the Bearcats, including a 38-13 beatdown after College Gameday's first visit to Orlando.
While Cincinnati has to be considered the "old money" of the conference, UCF has been the flagship football program over the past 2+ seasons and it's time to get things back on the right track. This is a big one and very likely will be determining the AAC East champion and participant in the 12/7 AAC Championship game.
As always, we'll be doing our part to give our team a home field advantage – join us Friday afternoon for food and libations and get ready to rock Nippert Stadium on ESPN primetime! WEAR BLACK!
Tailgate info:
What: Cincinnati Bearcats host the UCF Knights.
When: Friday, October 4. Kickoff time is 8pm, we plan to have the trailer in place by 2pm.
Where: Tailgate Alley at the Grid, Sigma Sigma Commons, University of Cincinnati main campus – spot #3. Park in a garage or on nearby streets and walk over to the tailgate. If you'll already be at The Grid, feel free to stop by to say hello!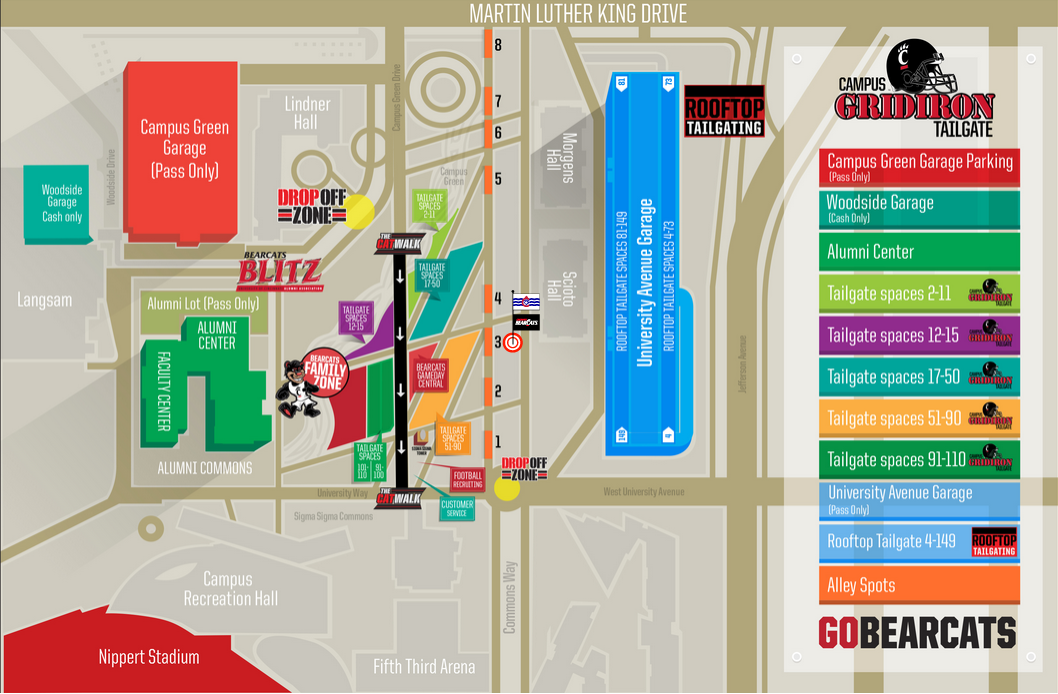 Who: All are welcome! This is a "community" style tailgate – BYOB. We always have extra food, but plan accordingly if you intend to eat. Most importantly, come prepared to have fun!
You're welcome (and encouraged) to contribute – feel free to bring some "community" beer to throw in the big, white cooler or stuff some money in the donation box located near the food table. Contributions are not required but go a long way to helping our tailgate to grow.
Menu:
Alabama Que pulled pork & turkey tips
Cheesy potatoes, spoonbread, and other sides
Canned beers & water
Please help us spread the word and feel free to reach out to us with questions/comments via twitter, facebook, or the comment form below.