09/28/19 – Cincinnati Bearcats @ Marshall Thundering Herd
Coming off a 35-13 rout of Miami (14 in a row!), our 2-1 Bearcats take the short drive to Huntington, WV for a payback game of the 2017 loss that the Herd handed us in Coach Fickell's first season. It's safe to say that the state of the football program has changed considerably since year 1, but there's still plenty to prove as the team gears up for conference play beginning the following week, in arguably the biggest home game of the season with UCF visiting on Friday, 10/4 under the lights of Nippert on primetime ESPN.
We've had this one circled for a while and will be taking the trailer. Final details are still being hammered out, but we'll update this post as often as possible. To get the absolute latest, make sure that you're following us on twitter.
Marshall tailgating reference:
Post Game party/celebration:
We will be joining a group of UC fans at The Union Pub & Grill after the game for celebratory beers. A UC alum on the ground in Huntington has reserved a private room in the back for Bearcats fans and all are invited.
The Union Pub & Grill
1125 4th Ave
Huntington, WV 25701
This is approximately 1.1 miles from the stadium and 0.2 miles from the DoubleTree, where our group is staying.
Tickets:
We've purchased a block of 15 tickets directly from UC. As of 9/16, it appears that you can still purchase tickets in the official UC allotment, otherwise there are plenty of tickets available on the secondary market.
Our tickets arrived on 9/21 – we are in Section 103, rows 40-42, seats 1-5 in each row. It can be assumed that the grayed out sections below (101 & 103) are designated for visitors. From what we can find online, rows in these sections are labeled 1-58, so we will be about 2/3 of the way up.
Bearcats fans sitting in these sections will want to enter the stadium via Gate D.

Tailgate info:
What: Cincinnati Bearcats visit the Marshall Thundering Herd.
When: Saturday, September 28, 2019. Kickoff time is 5pm – we plan to be setup by noon.
Where: Marshall University RV lot – 1656 3rd Ave, Huntington, WV 25703. $10/spot.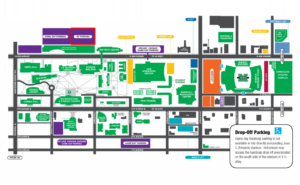 Lot officially opens 6 hours before kickoff (11am) but does allow RVs to park overnight the night before, so we won't know the parking situation until we arrive on Saturday morning. As soon as we are parked, we'll update twitter with precise location and landmarks to help find us.
For this tailgate, we'll be joining forces with our Grid Alley friends, LucyGate, and plan to park across from each other to create the ultimate Bearcats tailgate in Huntington. We will be meeting them near the lot around 11am in order to arrive at the same time – if you wish to setup with us, please reach out via social media or the comment form below.
Who: All are welcome! This is a "community" style tailgate – BYOB & food. We will have plenty of cooler space for you to keep your beer & food cold.
We will have a limited menu of:
Make your own cheese coneys (Skyline, dogs, buns, and all the fixins)
Misc sides & desserts
Variety of domestic beers & water
Please help us spread the word and feel free to reach out to us with questions/comments via twitter, facebook, or the comment form below.