08/29/19 – UCLA Bruins @ Cincinnati Bearcats
Football season is BACK! But…before we get into the 2019 UC athletics season, let's take a quick look back at 2018-2019:
Football – 11-2 w/ a bowl victory vs Virginia Tech
Volleyball – 26-8 & NCAA tournament 2nd round
Men's Basketball – 28-7, AAC Tournament Champs, & NCAA tournament
Women's Basketball – 24-11 & WNIT 4th round
Baseball – 31-31 & NCAA tournament (including knocking off the #1 overall seed in their home stadium)!
+ more championships and individual accolades…
In short, has there ever been a better time to be a Bearcats fan?!?
Your Bearcats football team returns to Nippert Stadium to kickoff the 2019 season under 3rd year head coach, Luke Fickell. While many anticipated 2018 to be another rebuilding year, the squad came out and shocked the world with 11 wins (+1 if you think we got jobbed @ Temple). Now, with a strong contingent of starters returning and other positions reloaded, expectations are as high as ever!
Help us do our part to make sure that Nippert Stadium is absolutely rocking on primetime ESPN!
(Friendly reminder to download the Bearcats app – Apple | Google – to participate in organized "light up" events at Nippert)
Tailgate info:
What: Cincinnati Bearcats host the UCLA Bruins.
When: Thursday, August 29, 2019. Kickoff time is 7pm, we plan to have the trailer in place by 1:30pm.
Where: Tailgate Alley at the Grid, Sigma Sigma Commons, University of Cincinnati main campus – spot #3. Park in a garage or on nearby streets and walk over to the tailgate. If you'll already be at The Grid, feel free to stop by to say hello!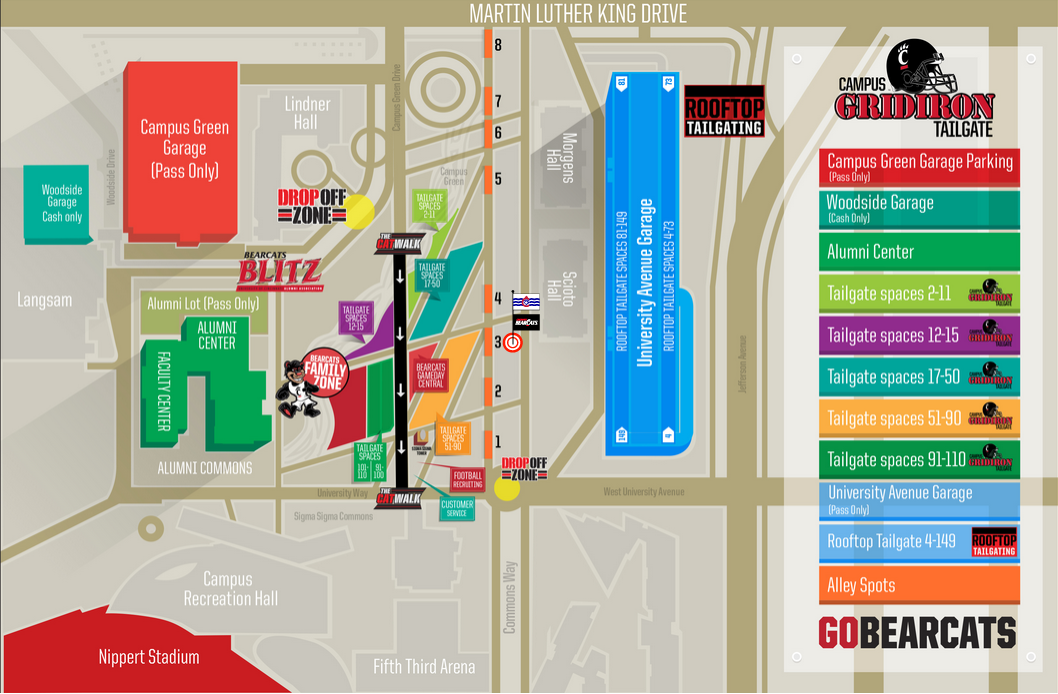 Who: All are welcome! This is a "community" style tailgate – BYOB. We always have extra food, but plan accordingly if you intend to eat. Most importantly, come prepared to have fun!
You're welcome (and encouraged) to contribute – feel free to bring some "community" beer to throw in the big, white cooler or stuff some money in the donation box located near the food table. Contributions are not required but go a long way to helping our tailgate to grow.
Rules: In order to ensure a good time for everyone, please review our basic rules for tailgating.
Menu:
Burgers & all the fixins
Mac & Cheese
Cheesy Potatoes
Chips
Misc Desserts
Uncrustables (for the kids)
Canned beer & bottled water
Please help us spread the word and feel free to reach out to us with questions/comments via twitter, facebook, or the comment form below.