The Bearcats travel to Atlanta for their 3rd ever match-up against the Georgia Bulldogs on New Year's Day.  I break down the Georgia Bulldogs.  Why the 2020 team has a better shot than the 2008 and 2009 teams to win the program's biggest bowl game.
Cats and Dawgs
The Bearcats and Bulldogs have played twice in their storied histories.  The Bulldogs traveled to Nippert Stadium in 1942 and won 35-13.  The '42 Bearcats finished the season 8-2, and only left Nippert Stadium twice that season, once a win against Case Western in Cleveland and the second a loss at Neyland Stadium in Knoxville, Tennessee.  The 1976 Bearcats also won 8 games and finished their season 8-3, with losses to Southwestern Louisiana (now University of Louisiana Lafeyette), #7 Georgia, and #6 Maryland.  They traveled to Athens, Georgia and lost to the Bulldogs 31-17.  Neither of those Bearcats team played in a bowl game.
Georgia fared much better in those two years.  In 1942 Georgia claims a National Championship with a win over UCLA in the Rose Bowl, 9-0.  QB Frank Sinkwich was the first Heisman Trophy winner in SEC history that season.  The 1976 Bulldogs played the #1 Pittsburgh Panthers and Heisman Trophy winner Tony Dorsett in the Sugar Bowl and fell short 27-3.
The Bearcats will play their 3rd ever game against the Bulldogs and the second in the state of Georgia at Mercedes Benz Stadium in downtown Atlanta.  Some of the home field advantage will be removed, as COVID-19 has reduced the capacity at MBS to 16500.  The game is sold out and both Georgia and Cincinnati sold their allotments of 3250 tickets to their fans and students.
Georgia Opt Outs
The Bulldogs are going to be without a significant portion of their defensive starters and 2 of their offensive players.  This list doesn't include players that are out with lingering injuries as well.  Most of Georgia's starting defense has opted out to prepare for the 2021 NFL Draft, which is a good problem to have for both Cincinnati and Georgia.
The Bulldogs run a very similar defense to the Bearcats, mostly aligning in a 3-4 front, with 3 down linemen and 4 linebackers.  They also use a position called the STAR in certain packages which is very similar to UC's SNIPER.  Georgia ranks #14 in the NCAA in total defense, having allowed 322 yards per game and 20 touchdowns.  Georgia has the #1 rush defense in the NCAA allowing on average 69 (nice) yards per game and 7 rushing TDs on the year.  The Bearcats offensive line is going to have their hands full with Georgia's defensive line, with them averaging 305 lbs a piece.
Georgia's strength the past few years has been their rushing offense, but this year, they've taken a step back to #45 in Rushing offense.  The Bulldogs are averaging 189 yards per game on the ground and have 17 rush touchdowns.  Things won't be looking as rosy for the bulldogs with their most experienced offensive linemen, 3rd team All American Ben Cleveland, and their TE Tre McKitty opting out of the game.  Zamir White is Georgia's bell cow back.  He has 740 yards on the year and averages 5.6 yards per carry along with 10 TDs.  Georgia also has 3 other guys with at least 30 carries, totaling 938 yards and 5 TDs.
Georgia became a much more dynamic passing team after handing the reigns over to USC transfer J.T. Daniels.  In his three starts he completed  66% of his passes for 839 yards, 9 TDs, and 1 interception, but the best pass defense he faced was #82 for Missouri.
Georgia's coaching staff was very complimentary of the Bearcats.  Georgia's DC Don Lanning said that Desmond Ridder is the 3rd best QB that they've faced this year, behind two Heisman finalists Kyle Trask from Florida and Mac Jones from Alabama.  Georgia head coach Kirby Smart said that Cincinnati has the best skill position players they've seen this season besides Alabama.
Why is this year different?
The 2008 Bearcats piqued a year early and the 2009 Bearcats faced a Florida team that still has 6 players actively playing in the NFL as well as Tim Tebow who never lost consecutive games in his career.  Brian Kelly was able to unlock the potential of players and played a fast style of offense that wore teams down.  The 2008 defense featured possibly the greatest secondary of Bearcats history (although now, that may be in question) with Mike Mickens, DeAngelo Smith, and Brandon Underwood.  The 2009 offense was prolific, and until this year remained the highest scoring Bearcat offense, on a per game basis.
The Bearcats struggled in 2008 against Virginia Tech in the Orange Bowl, after starting the game with a 7-0 lead.  Junior QB Tony Pike threw 4 interceptions against the Hokies and left Miami, FL with a 20-7 defeat.  UC's offensive line was manhandled by Virginia Tech's defensive line and Cincinnati was outrushed 71 to 258 yards on the ground.  This was the more winnable of their BCS games, but mistakes got in the way.
The 2009 version of the Bearcats didn't fare much better, running with a skeleton coaching staff consisting of mostly graduate assistants after Brian Kelly fled to Notre Dame in the middle of the night.  Florida went into halftime at the Louisiana Super Dome with a 30-3 lead, and I couldn't be bothered to remember much else.  The Offensive Line for the 2009 team was small, but quick, averaging 288 lbs with only 1 player over 300 lbs, they were getting shoved around by the Florida defensive line.  The Bearcats made some plays late against Florida's back-up defense and ended up losing 51-24 and the Bearcats haven't made a game of that level until this season.
The 2020 version of the Bearcats are elite on defense and have seen the #4, #5, and #7 QB in passing yards this season, and shut all 3 of them down.  J.T. Daniels is nowhere near the level of Gabriel, Buechele, and White.  If UC can keep the running game in check, the defense should be able to force a couple of turnovers on Daniels to keep the game manageable.  Georgia's offensive line will be the best the Bearcats have seen this season, but with Marcus Freeman's defensive scheme and the Bearcats size and experience on the defensive line, they should be able to hold their own.  Second Team All American, Sauce Gardner vs. Georgia WR George Pickens will be a match-up to watch.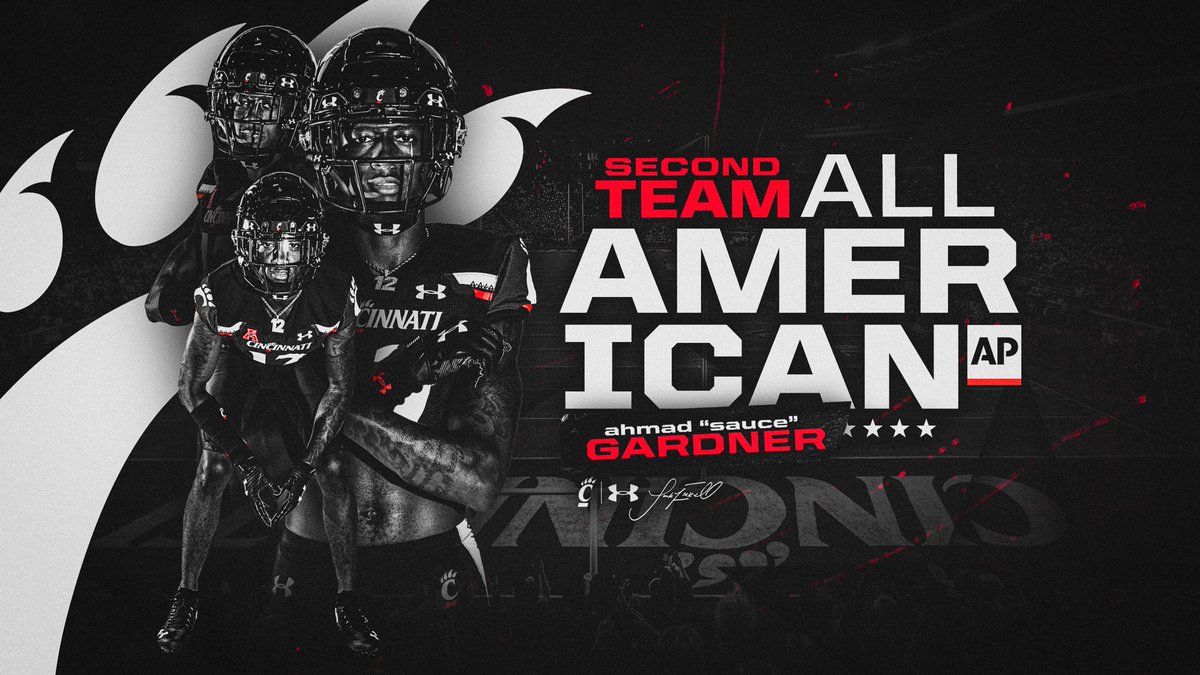 Georgia struggled on defense against the two best QBs in the NCAA this year, Kyle Trask from Florida and Mac Jones from Alabama, and neither of them have the legs that Desmond Ridder has.  Alabama still managed to rush for 147 yards, 152 by Najee Harris along with Mac Jones 400+ yard 4 TD day, but they managed to hold the Gators to 97 yards on a similar day with Kyle Trask.  The Bearcats are going to have to get their running game going against the Bulldogs to keep the balance on offense they strive for.  Tulsa dared the Bearcats to beat them in the air in the AAC Championship, and they lost that battle.  The one thing the Bearcats won't be going up against is the weather, as MBS is indoors.
Overall, Georgia and Cincinnati are very similar on paper.  They both feature strong 3-4 defenses that will give you multiple looks.  Georgia has been a rushing focused team, which has seen a step up in their passing game since Daniels took over the role as signal caller.  Cincinnati's bread and butter has been a rushing attack over the past few years, but a switch to a Run Pass Option offense and Desmond Ridder's legs are going to be the difference in this game.  Fickell is 2-0 so far in bowl games and found a way to win the last two seasons, despite both games being in poor weather, including a comeback win against Virginia Tech in the Military Bowl. Our Bearcats are going to win a close one in Mercedes Benz Stadium, 28-24.  Desmond Ridder will once again be the MVP of the game and the Bearcats come back to Clifton with some new hardware.