The Bearcats and their fan based invaded South Bend this past weekend and brought home arguably the biggest win in program history, but a match-up with a frequent thorn in their sides looms over Nipp at Nite.

University of Cincinnati South Bend
UC Stealing Their Opponent's Logo
Notre Dame Edition

☘️ 🐾 🔴 https://t.co/zgqk6d4JnX pic.twitter.com/AGiUKXo7I7

— Justin H (@Captain_Cincy) October 2, 2021
One of the biggest games in program history may have finished as the biggest win in program history as the Bearcats and fanbase took over Notre Dame Stadium en-route to a 24-13 victory. The Nation's second longest active winning streak ended at 26 for the Irish and the Bearcats come home to Nippert Stadium with a 22 game home win streak, second only behind Alabama. The Bearcats fanbase was loud and engaged and looked like they took over 25% of the seats in Notre Dame Stadium. I would be a bit remiss if I didn't comment on how nice the stadium it self was. Easily the nicest stadium I've ever been to, with the only major knock being that they don't sell alcohol. The fanbase was great and the atmosphere on campus was great. Highly recommend to every college football fan, you should go to a game there.
The Bearcats allowed Notre Dame to walk down the field on their first drive, before the Blackcats pressure clamped down in the redzone and forced an interception by future early round pick Sauce Gardner. Gardner was a lock down corner, allowing 9 yards on 3 targets to go with his pick. Gardner continues to take away an entire side of the field from opposing offenses.
After a back and forth first quarter, in which no one scored, the Bearcats finally found some points on the board. It all started with Myjai Sanders hitting a Rock Bottom on Freshman QB Tyler Buchner which led to an interception by Hometown Hero Freshman Sniper Deshawn Pace. Ridder found Leonard Taylor in the back of the endzone a few plays later to go up 7-0. On the ensuing kickoff, the Bearcats recovered a muffed kick to find themselves with another short field to go in which one of the worst inelgible man downfield plays was called on transfer James Tunstall. That wiped away a big TD pass from Ridder to Jerome Ford and they settled for Cole Smith's lone field goal of the game to go up 10-0. They finished the half with a pass from Ridder to Tre Tucker in which Tucker slipped under All American defender Kyle Hamilton to go 27 yards for a TD.
If I have any complaints, it's been the one I've had all season. The Bearcats struggled once again to play all four quarters of a game. It's a minor complaint, when you can go on the road, play a rough entire quarter, and still win in one of the toughest home environments in college football. The Bearcats missed 2 FGs, and a big fumble by Ridder allowed Notre Dame to sniff a come back, before missing a PAT to bring the score to 17-13. Davey O'Bryan National Player of the Week Desmond Ridder wasn't going to let that happen on his watch and he engineered a quick 3:12 second drive in which he hit a big play to Leonard Taylor up the middle of the field before eventually running the ball in for a TD. Ridder finished the game with 327 total yards and 3 touchdowns and has himself eyeing a seat at the Heisman Trophy Presentation in New York at the end of the season. He's currently tabbed as 3rd place after leading the Bearcats to a 4-0 record early in the season.
In a game that they never trailed, #7 Cincinnati beat #9 Notre Dame 24 to 13 today in South Bend.

Take a look back at the game's biggest highlights, presented by @StacyHeatingAir. pic.twitter.com/9h3lW9AbGL

— Cincinnati Football (@GoBearcatsFB) October 3, 2021
The Bearcats defense gave Notre Dame fits all game long, running multiple different looks, including a 3-4, a 4-3, a wide nine, and running double-a gap blitzes that kept the 3 Notre Dame QBs guessing and picking grass out of their face masks all game long. Notre Dame finished with 341 yards on offense and 3 turnovers on the day and the Bearcats faithful had a happy 5 hour drive home. A huge thank you goes out to all of the Bearcat fans who made the trip and to the Republic of Cincinnati, the Den, LucyGate, and Red and Black Brigade who helped take over the tailgate lot on Twyckenham!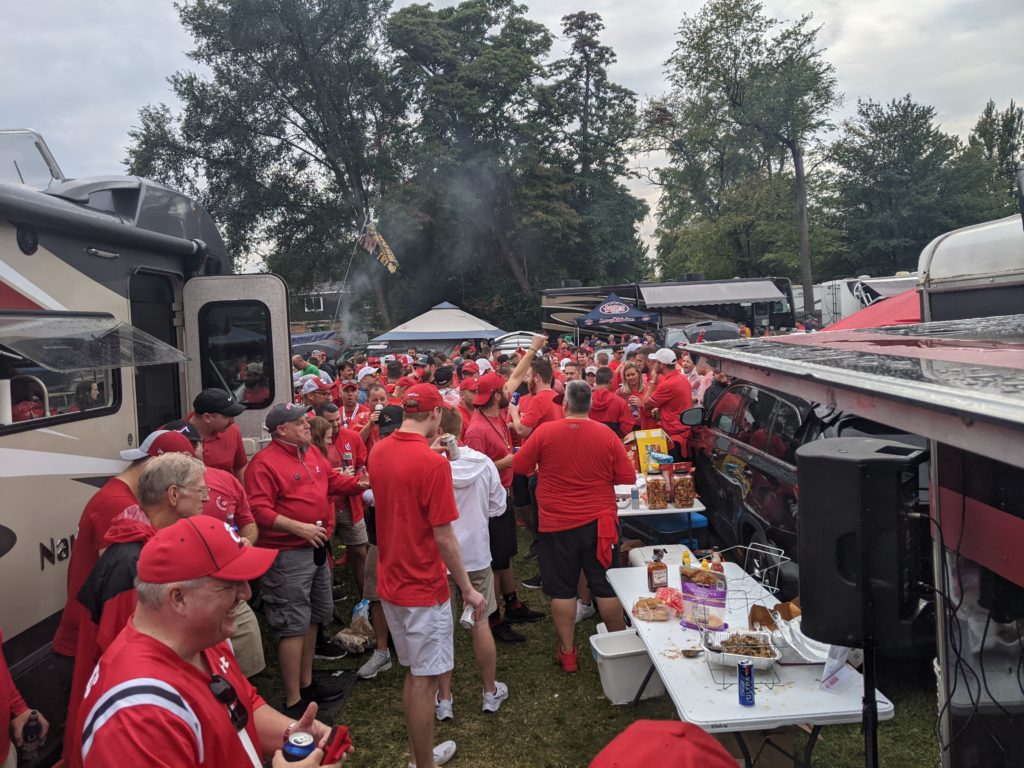 Nipp at Nite Owls
The 2020 match-up between the Owls and Bearcats was cancelled due to Covid-19 issues in the Bearcats program, but in 2019, the Owls made a trip to Nippert Stadium that both teams would rather not remember. The Bearcats have struggled with Temple over the years, going 4-4 against the Owls since they joined the AAC in 2012, including a shocker in 2018 in which they upset the #20 Bearcats in OT as one of their two losses in that season. The Owls reportedly upset Junior Right Guard Lorenz Metz with their taunting after that game, so in 2019 he got his retribution blocking a PAT that was returned by CB Coby Byrant as the Cats escaped with a 15-13 win. It was a sloppy, ice cold game in which Michael "The Truck" Warren scored the only TD for the Bearcats.
If you want something,
you have to take it.

AAC East Division Champions.#Bearcats pic.twitter.com/1YLba0BLO6

— Cincinnati Football (@GoBearcatsFB) November 25, 2019
This year Temple is a bit of a surprise in the AAC having just beaten Memphis last week. The O/U for the Owls for total wins this season was 1.5, and they are 3-2 and looking to be a bit more than tough than expected, although that's nothing that a Sold Out Nipp at Nite crowd shouldn't help with.
The Owls haven't settled on a starting QB, so they run two different guys with success. Former Georgia Bulldog D'Wan Mathis leads the team with 762 passing yards, 54 rushing yards and 5 passing touchdowns, 1 rushing. His peer, Justin Lynch adds 416 yards passing, 100 yards rushing along with 2 passing and 1 rushing touchdown. They feature a trio of talented WR in Barbon, Jones, and Anderson. Overall, the Owls offense is currently ranked 92nd in Total Offense and 80th in Scoring Offense. As long as the Bearcats take care of business and don't have a hangover from South Bend last weekend, the Temple offense is going to struggle against the Blackcats defense.
Defensively, Temple isn't much better. They rank #36 in the NCAA allowing 317 yards per game, but 99th in points allowed allowing 30 points per game on average to their opponents. Temple has struggled against the better teams on their schedule, allowing 61 points to Rutgers, 28 to Boston College, 31 to Memphis and 24 to Akron, but managing to hold Wagner to 7. Cincinnati should have a lot of success running the balls, especially at home, on Temple as they rank #92 in the country, allowing 170 yards on the ground per game. They currently rank #8 against the pass allowing 147 yards in the air. The first few teams they've played don't feature prominent passing offenses, so I think that number doesn't tell the whole picture. Memphis gained over 300 yards in the air on them last week. I look for Ridder and the offense to have a big day against the Owls defense.
Cats – 45
Owls – 14
Juncta Juvant!