11/05/22 – Navy Midshipmen @ Cincinnati Bearcats
It's our last regular season Saturday tailgate and we're ready to do our part to get the Bearcats back on track after a disappointing loss to Central Florida!
With 4 games remaining, UC is currently tied with UCF in 2nd place of the AAC standings, losing a tie breaker due to the head to head loss. That said, the Bearcats have a favorable 3/4 at home and will certainly have an opportunity to finish in the top 2, and a spot in the AAC Championship game on 12/3 if they win out, with the following matchups left (top 4 current AAC teams):
Tulane
11/5 @ Tulsa
11/12 vs UCF
11/17 vs SMU
11/25 @ Cincinnati
Central Florida
11/5 @ Memphis
11/12 @ Tulane
11/19 vs Navy
11/26 @ USF
Cincinnati
11/5 vs Navy
11/11 vs ECU
11/19 @ Temple
11/25 vs Tulane
Houston
11/5 @ SMU
11/12 vs Temple
11/19 @ ECU
11/26 vs Temple
We'll be getting to the Alley early and hope that you'll join us! GO BEARCATS!!
Tailgate info:
What: Cincinnati Bearcats host the Navy Midshipmen.
When: Saturday, November 5, 2022. Kickoff time is 4pm, the trailer will be set up by 10:30am and we will begin cleaning up/tearing down around 3pm to allow plenty of time for everyone to get to their seats prior to kickoff.
Where: Tailgate Alley at the Grid, Sigma Sigma Commons, University of Cincinnati main campus – spot #3. Park in a garage or on nearby streets and walk over to the tailgate. If you'll already be at The Grid, feel free to stop by to say hello!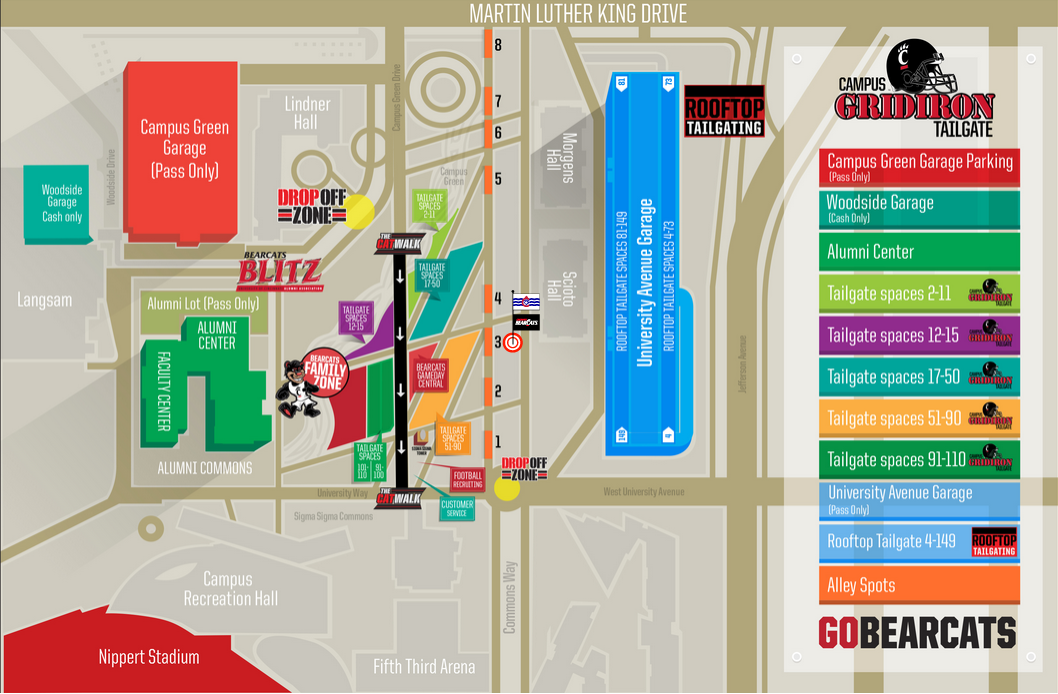 Menu:
Burgers & coneys
Various sides & desserts
Water, Capri Suns (for the kiddos), & domestic beer
Who: All are welcome (as long as you can abide by some simple rules)! This is a "community" style tailgate. We always have extra food, but plan accordingly if you intend to eat.
---
If you'd like to contribute this week, our biggest areas of need are:
Bring a 6/12 pack of light domestic beer – CANS ONLY – if the coolers are already stocked, just put them in the trailer for future tailgates
Money helps the most, as we'll probably be catering the next two Friday tailgates:
Please help us spread the word and feel free to reach out to us with questions/comments via twitter, facebook, instagram, or the comment form below.