11/23/19 – Temple Owls @ Cincinnati Bearcats
What. A. Season…
Coming off an 11 win season in 2018, expectations were high for this year, but who would've guessed that we'd be sitting at 9-1 & 6-0 in the AAC with our only loss being to the juggernaut in Columbus?
Time to send an amazing group of seniors out in style. Having already clinched a share of the AAC East division championship, a win against Temple guarantees an outright claim to the division, keeps UC in contention to host the conference championship game, and allows the Bearcats to continue to control their own destiny in the hopes of claiming the New Year's Six G5 bid for the Cotton Bowl!
If you're reading this and don't already have tickets, good news (but seriously, wtf is wrong with you?):
Our city's biggest game of the year is going down 𝗦𝗔𝗧𝗨𝗥𝗗𝗘𝗬 at Nippert Stadium.

Pack the 🏟 for some #NippAtNight magic as @GoBearcatsFB looks to lock up the AAC East crown and set a single-season attendance record.

🎟 start at $17, up to 50% off: https://t.co/37m9VjxID2 pic.twitter.com/thy4Zap920

— Cincinnati Bearcats (@GoBEARCATS) November 20, 2019
See you at the tailgate…RAIN OR SHINE!
Tailgate info:
What: Cincinnati Bearcats host the Temple Owls.
When: Saturday, November 23. Kickoff time is 7pm, we plan to have the trailer in place by 1pm.
Where: Tailgate Alley at the Grid, Sigma Sigma Commons, University of Cincinnati main campus – spot #3. Park in a garage or on nearby streets and walk over to the tailgate. If you'll already be at The Grid, feel free to stop by to say hello!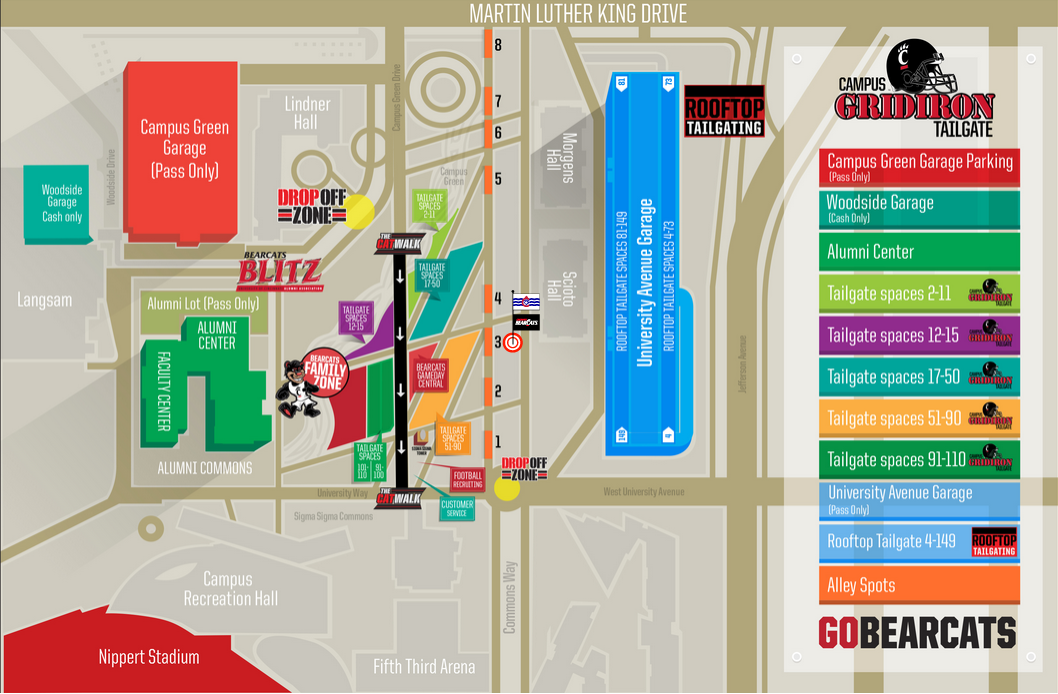 Who: All are welcome! This is a "community" style tailgate – BYOB. We always have extra food, but plan accordingly if you intend to eat. Most importantly, come prepared to have fun!
You're welcome (and encouraged) to contribute – feel free to bring some "community" beer to throw in the big, white cooler or stuff some money in the donation box located near the food table. Contributions are not required but go a long way to helping our tailgate to grow.
Please help us spread the word and feel free to reach out to us with questions/comments via twitter, facebook, or the comment form below.