11/03/18 – Navy Midshipmen @ Cincinnati Bearcats
After two weeks on the road and consecutive overtime games, the 7-1 Bearcats return home to host the 2-6 (1-3) Navy Midshipmen. Through 9 weeks, there really is no such thing as a "tune up" game, but it's clear that we've got some kinks to work out before the biggest two weeks of the season (11/10 vs USF & 11/17 @ UCF), so Navy comes at a good time:
Navy is:
allowing 524 yards/game / Bearcats average 449.4
allowing 177 rushing yards/game / Bearcats average 232.20
allowing 263.25 passing yards/game / Bearcats average 217.10
averaging 382.3 yards/game / Bearcats are allowing 286.2
averaging 307.3 rushing yards/game / Bearcats are allowing 99.9
averaging 75 passing yards/game / Bearcats are allowing 186.40
Now, the one stat that really stands out is that Navy averages 307.3 yards per game on the ground, which is obviously due to the Academy's use of the triple option. With only 75 yards passing per game, the Bearcats' front 7 should be licking their chops. Navy is 37.39% (43-115) on 3rd down this season, the simple strategy to the game is to keep them one dimensional and to eat up as much clock with our offense as possible.
At the end of the day, we're excited for a 3:30pm kickoff and 3 of 4 remaining games at Nippert! Come early, be loud, wear BLACK!
Tailgate info:
What: Cincinnati Bearcats host the Navy Midshipmen.
When: Saturday, November 3, 2018. Kickoff time is 3:30pm, so count on us to be setup about around 10am.
Where: Tailgate Alley at the Grid, Sigma Sigma Commons, University of Cincinnati main campus – spot #3. Park in a garage or on nearby streets and walk over to the tailgate. If you'll already be at The Grid, feel free to stop by to say hello!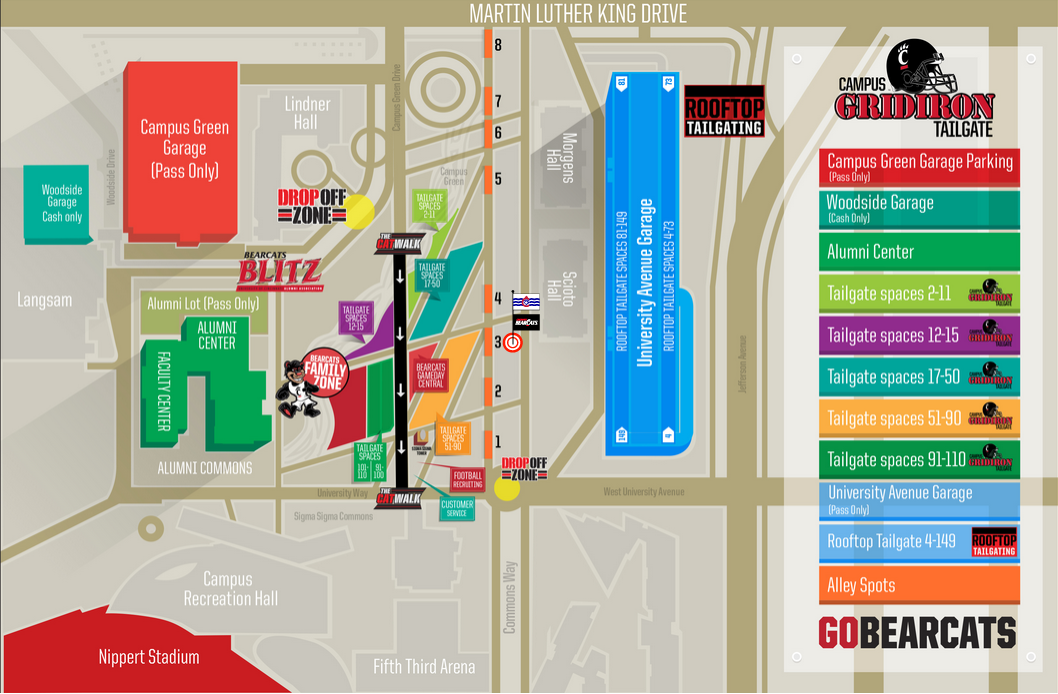 Who: All are welcome! This is a "community" style tailgate – BYOB. We always have extra food, but plan accordingly if you intend to eat. Most importantly, come prepared to have fun!
You're welcome (and encouraged) to contribute – feel free to bring some "community" beer to throw in the big, white cooler or stuff some money in the donation box located near the food table. Contributions are not required but go a long way to helping our tailgate to grow.
Rules: In order to ensure a good time for everyone, please review our basic rules for tailgating.
Menu:
BrewCity Sausage Bourbon Wurst & hotdogs w/ all the fixins
Mac & cheese + misc sides
Cookies, chips, etc
Canned beer & water
Please help us spread the word and feel free to reach out to us with questions/comments via twitter, facebook, or the comment form below.