After a 28 day layover, a couple of COVID related cancellations, multiple positive COVID-19 cases in the Bearcats football program, a screwjob by the CFP committee, and a couple rough losses in basketball; the Bearcats football team is finally back!  The Bearcats return to Carson Field to take on Tulsa in the AAC Championship game (8PM on ABC) in front of a frenzied crowd of 1500 5878 fans.  (Edit: Thanks Mike DeWine and Enquirer writer Jessie Balmart)
AAC Accolades
The AAC announced their Season Ending Superlatives on Tuesday.  Congratulations to Luke Fickell for winning AAC Coach of the Year and Desmond Ridder for winning Offensive Player of the Year.  My father, Luke Fickell was definitely deserving of the award coaching his team to the only undefeated record in the American and Desmond played lights out in Conference Play.  Congratulations to both of them!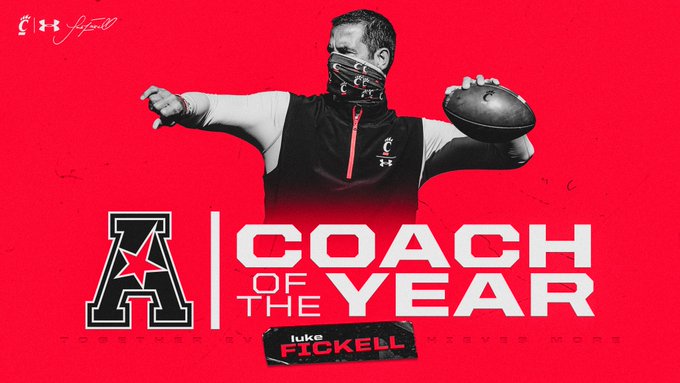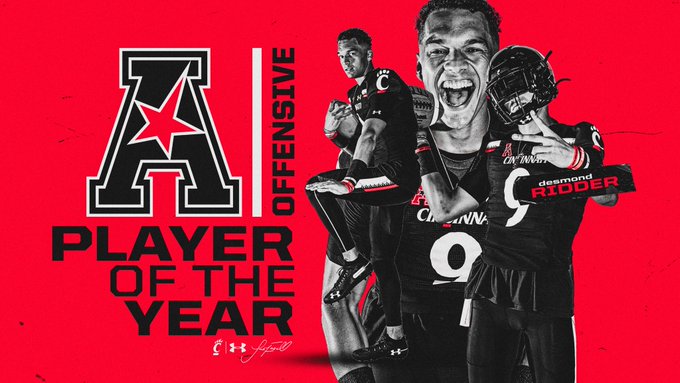 The AAC also announced their All Conference Teams on 12/15.  Offensive players Desmond Ridder, Gerrid Doaks, and James Hudson were matched on defense by Myjai Sanders, James Wiggins, Jarell White, Ahmad Gardner, and Coby Bryant on the AAC First Team.  The AAC Second team members include Michael Young, Josh Whyle, Marcus Brown, Elijah Ponder, Darrian Beavers, James Smith, and Tre Tucker.  Darius Harper and Darrick Forrest round out the lists with honorable mentions.
When's the last time Oklahoma got hit by a Hurricane?
This week's match-up for the 4th and final time this season is the Tulsa Golden Hurricane (7-1).  The regular season match-up between these two was postponed three times and ultimately cancelled and the stakes in this one couldn't be higher.  The Bearcats have a trip to a New Year's Six Bowl on the line, while Tulsa would need some magic to happen in front of them to claim their spot.  The CFP committee made a statement on 12/8 when they dropped the Bearcats from #7 to #8 despite not playing, and then again on 12/19 to #9.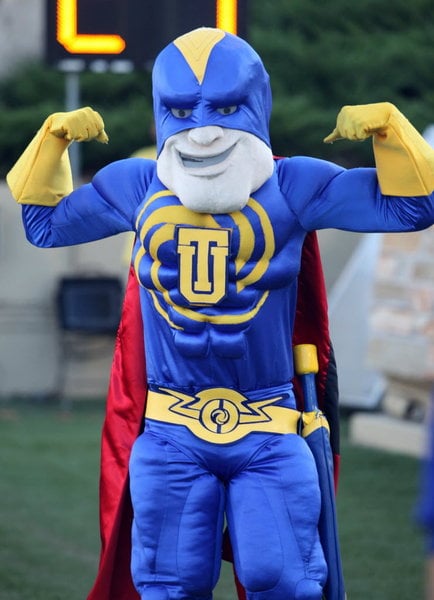 Tulsa is a weird institution, a private school with around 3200 students and their mascot being named after a meteorological event that isn't physically possible in the state of Oklahoma.  They also have some goofy logos and a terrible mascot named "Captain 'Cane"
Last year, the Golden Hurricane (not Hurricanes, it's a sore spot for Tulsa Alum), on a very special day in October, left Nippert Stadium with a 24-13 loss.  The day belonged to Gerrid Doaks as he rushed for 91 yards and 2 TDs and had a reception for 28 yards and a TD.  QB Zach Smith had a rough day in the office on Carson Field completing just 48.8% of his passes and threw 2 interceptions against the Blackcat Defense.  The Blackcats also had 5 sacks and recovered 3 fumbles on the day.
Both teams come into this match-up 6-0 in American Conference play despite Tulsa getting handed a win on a terrible call against ECU.  The Bearcats will have their hands full with the Tulsa Defense and AAC Defensive Player of the Year Zaven Collins.  Collins is currently projected to be a late first to early second round pick in the NFL Draft and he's a game changer.  Collins has 52 total tackles, 4 sacks, 4 interceptions, and 2 forced fumbles.  The Tulsa defense comes in #20 in the NCAA giving up 329.4 yards per game and 13 total TDs.  Their overall rush defense ranks #48, but only has allowed 5 rushing TDs, which is tied for #6 in the country.  This will be the Cats toughest defensive match yet.
While Tulsa has been solid on defense, they've struggled a bit on offense.  They rank #70 in the NCAA scoring 27.7 points a game.  Tulsa QB Zach Smith has been pretty pedestrian this year throwing for 205 yards a game, 11 TDs and 6 INT on a 58% completion percentage.  Their rushing offense ranks #68 in the NCAA at 159.4 yards/game.
Ultimately, this game is going to come down to the Bearcats vs. themselves.  My key to the game is turnovers.  UC has taken pretty care of the ball in conference play and that's going to have to continue if the Bearcats want their shot against an A5 team in a NY6 Bowl Game.  Tulsa's offense is going to struggle to score points, even against a rusty Bearcats defense.  If the Bearcats offense can get back up to their pre-outbreak speed and accuracy, Tulsa isn't going to stop them either.  Zaven Collins is an elite defender, but with so many weapons at his disposal, Desmond Ridder can afford to look the other way.  I think the RBs are going to have a big day and the tight ends are going to struggle to get open looks.  Vegas currently has the Bearcats as a 14.5 point favorite and I would take the Bearcats.  I think they will have a lot of pent up frustration from 2 weeks of disrespect from the Playoff Committee and from their Covid-19 Outbreak.  I wouldn't want to be wearing white on Nipp at Nite.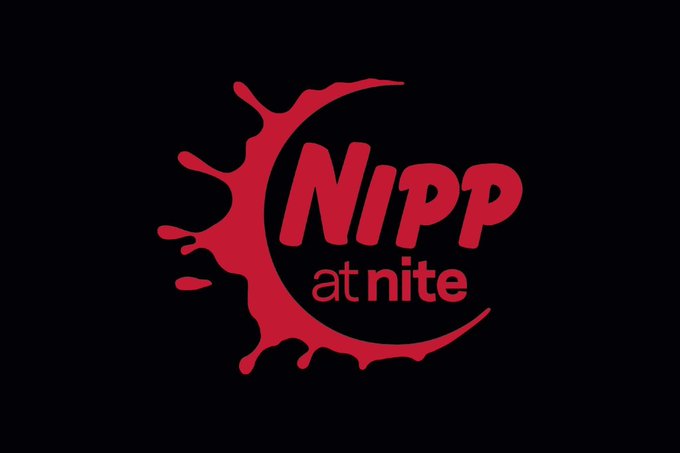 (Image Courtesy of @TheDenUC)
Sunday, we'll find out our next destination, hopefully Atlanta.
Juncta Juvant