After securing a 22nd straight Nippert home opening victory, the Bearcats head east to a former Big East Rival. Big 12 Offensive Player and Newcomer of the Week Emory Jones looks to lead the Bearcats to a victory at The Stadium Formerly Known as Heinz Field. The Bearcats are an underdog heading to Pittsburgh to face the Panthers (6:30 PM, The CW (not a typo, I promise.))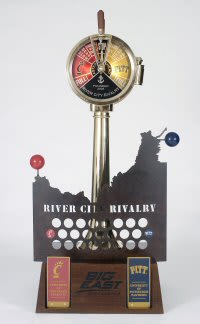 I like my Colonels Fried
UC Stealing Their Opponent's Logo
🏈 EKU Edition

Day 1 Y'all! Welcome to the Big 12, the Satterfield Era, Nike Apparel, and Logos on X instead of Twitter. https://t.co/Cwzwd8emUB pic.twitter.com/mXorA1z70q

— Justin H (@Captain_Cincy) September 2, 2023
The Bearcats easily cruised to victory this past Saturday at a scorching Nippert Stadium. The transfer portal was the star of the show this week. Offensively, Emory Jones gets the game ball, scoring 7 total touchdowns (5 passing, 2 rushing) and only having 4 incompletions. Xzavier Henderson led receivers with 7 catches, 149 years, and a TD. Henderson joked in the post game presser "We call (Emory) the lunch lady, because he makes sure everyone gets fed." The Colonels defense was carved up by Emory and also by Lichtenberg. The Bearcats also hit their 200 rushing yard goal, totaling 229 with 105 coming from Hometown Hero Corey Kiner.
Defensively, transfer Daniel Grzesiak was wreaking havoc on the offense. He ended his day leading the team in tackles, sacks, and tackles for loss. He should be a key contributor this week at Pitt as well. Bryon Threats and Justin Harris, homegrown Bearcats, both had an interception in the game. There wasn't a lot of splash from the defense as they were likely trying to keep things vanilla this week against an inferior opponent.
****sburgh
It's the 13th edition of the River City Rivalry, or not as Pittsburgh has declared they don't want to play for the Paddlewheel Trophy. The Panthers hold an 8-4 advantage over the Bearcats with the Bearcats winning 4 of the last 5, the 2009 game the crown jewel of Bearcat lore. Pike to Binns memories will forever be seared into Bearcat nation's brains and probably the last time most fans have made the trip across I-70. Another memory I have of the Pittsburgh Panthers was a second straight snow game in 2010, in which the Bearcats mascot was arrested for throwing snowballs at the Pittsburgh bench, a proud Bearcat moment for sure.
The next time someone tells you the River City Rivalry isn't a real rivalry just remind them of when Cincinnati's mascot was arrested in the middle of the game. pic.twitter.com/7GKlOTiW89

— Sour Marcus (@SourMarcus) September 6, 2023
Both of these teams have seen significant changes since their last meeting in 2012. That year, Pittsburgh and Syracuse led a coup that ultimately led to the demise of the Big East and left the Bearcats dangling in the American until this season. The Panthers head coach Pat Narduzzi enters his 9th season at Pittsburgh 63-41 with one ACC title in 2021. The former Bearcat defensive coordinator (2004-2006) runs a pro-style system offensively, with lots of power rushes and heavy tight end sets. They also played an FCS Opponent last week (The Wofford Terriers), winning 45-7. Starting QB Phil Jurkovec, a Pittsburgh native, has taken a tour of the ACC. He's previously played at Notre Dame as well as Boston College. He's a career 60% passer with 38 touchdowns and 17 interceptions. He has a Big Ben type frame that will make Pittsburgh fans salivate, 6'5 235 pounds, so he escapes contact, but isn't a prolific runner, a total of 609 rushing yards and 10 touchdowns. Wrapping him up and forcing interceptions will limit the Panthers passing game. They have a lot of experienced pass catchers, but lack a true #1 type guy, so playing solid defense on all front will be key. Rushing wise, their leading returning rusher is Rodney Hammond Jr, having 459 yards on 4.2 yards a carry and 5 TDs last season. They also have New York Jets RB Zach Carter's brother, Daniel Carter, who led the Panthers with 65 rushing yards and a TD last week. On paper, the Panthers have a lot of solid contributors, but lack elite playmakers. It's going to be up to the Bearcats defense to keep the ball in front of them, make solid tackles, and don't let a pro style offense slow down the new 3-4 defensive alignment. This is a big step up in talent and a totally different scheme than we saw the Bearcats play last week.
Defensively, the Panthers have been strong under Narduzzi. They currently rank 3rd in the NCAA, only allowing 126 yards last week to Wofford, but that's probably a severe outlier by the end of the season. Last year they finished the season #22 overall, allowing 329 yards per game. They did allow 39 touchdowns for the season, which was 52nd overall. That to me shows that they were either susceptible to big plays or their opponents were playing with short fields all season. Their two starting cornerbacks are both under 6'0 tall, so if Emory can place the ball up high for his receivers, they'll have an advantage going up to get 50/50 balls. The Panthers lost All American Calijah Kancey to the NFL Draft and it doesn't appear that anyone has stepped up to be the next great Pitt defensive linemen this season. The biggest question in this game is whether the Bearcats Offensive Line can open up rushing lanes and protect Emory Jones. They weren't tested last week against EKU and the Panthers held the Wofford Terriers to -1 rushing yard for the game last week.
Pittsburgh isn't the same team that won the ACC in 2021, they have lost multiple contributors to the NFL draft and I haven't seen anything to suggest that they have an elite game changing type player. Hammer the -7 point spread Bearcats, this is going to be closer than Vegas expects. The Bearcats will struggle to start on the road, but they'll continue to wear down Pitt throughout the second half. The Bearcats go down and have another Pike to Binns moment in Pittsburgh.
Bearcats – 35
Primanti Bros – 31
Juncta Juvant