Expectations are through the roof this season for the Bearcats as they return their deepest and most talented roster, probably of all time. In this multi-part series, I'll examine each of the position groups, expectations, potential break out stars, and weaknesses. This article we will examine the cornerbacks led by potential All American Sauce Gardner.
If you would have told me that there was the potential to have a more iconic duo than Mike Mickens and Deangelo Smith at cornerback in Cincinnati history, I would think you were crazy, but Coby Bryant declared for his Super Senior Season and Ahmad Gardner returns for his third and probably final season for the Bearcats.  You can't forget about Junior Nickelback Arquon Bush who had a massive hit in the Peach Bowl on a 4th and 1 in the Third Quarter that kept the Bearcats in control of the game at the time.
Heading into the 2019 season, Coby Bryant was the assumed #1 corner and he had some struggles early until the emergence of Sauce Gardner in the UCF game.  After that game, the Bearcats moved Sauce to the "boundary" corner, who uses the sideline to his advantage and typically lines up against the opposing teams #1 receiver.  Coby Bryant moved to the field side, usually lining up against the opposing teams #2 reciever and his play escalated from there.  The cornerback room looked to be solid under at the time, Cornerback Coach Mike Mickens, but he left to Notre Dame prior to the start of the 2020 season.  Coach Perry Eliano came in and his unit didn't miss a beat as the Bearcats pass defense finished the 2020 season 6th in the NCAA in Passing Yards/Attempt allowing 6.01 yards/attempt.
Lowest passer rating allowed by a CB last season (250+ snaps):

Sauce Gardner, Cincinnati – 29.3

Derrick Canteen, GA Southern – 31.7
Eric Stokes, UGA – 43.6
Asante Samuel Jr, FSU – 46.2
Tre Brown, OU – 46.2 pic.twitter.com/2N4t8VsN0u

— PFF College (@PFF_College) June 3, 2021
Sauce enters this season with the potential to be the best corner in the NCAA this season.  He's been named to the Bednarik and Jim Thorpe Award Watchlists which go to the best cornerback and defensive back in the country.  Sauce didn't play in the Peach Bowl, suffering back spasms that wouldn't allow him to go against Georgia, which was a big loss for the Bearcats.  He's played 642 defensive stats and never allowed a touchdown.  It will take a special season by Gardner to get him in the Top 5 for Career Interceptions as he would need 5, to tie Ed Boils for 5th with 11.  For him to tie Mike Mickens with 14, he'd need 8 which would tie Deangelo Smith's single season record.  Gardner projects currently as a 1st or 2nd round pick in the NFL Draft and he's beefed up to 200 pounds for this season to prove he can play at a higher weight for NFL Scouts.  Sauce could be the first Bearcat taken in the NFL Draft after a huge season.
View this post on Instagram
In a surprising move, Coby Bryant decided to return for the Bearcats for his Super Senior season.  Coby has never missed a game for the Bearcats, having played in every single game since he stepped on campus.  Bryant should finish this season having played 63 college football games, which is unprecedented.  Bryant has 7 career interceptions, including 4 last season and one in the Peach Bowl and is the biggest threat to end up in the Top 5 for Bearcats interceptions.  Bryant also led the NCAA last season in interceptions while playing man coverage, so the switch to put him on the field side was big for Bryant.  I look for Bryant to have a big year and will likely be picked in the 2022 NFL Draft
Junior Arquon Bush is one of the unsung heroes of the Bearcats defense, manning the nickelback position, usually reserved for covering the inside of the field and going against smaller, shifter opposing receivers.  Bush is not the typical Cincinnati corner, usually 6'1 or 6'2, but he checks in at 6'0 and has proven he can lay the wood on opposing receivers.  Bush has 4 career interceptions and a fumble recovery and I look for him to continue his strong Cincinnati career locking down the inside of the field.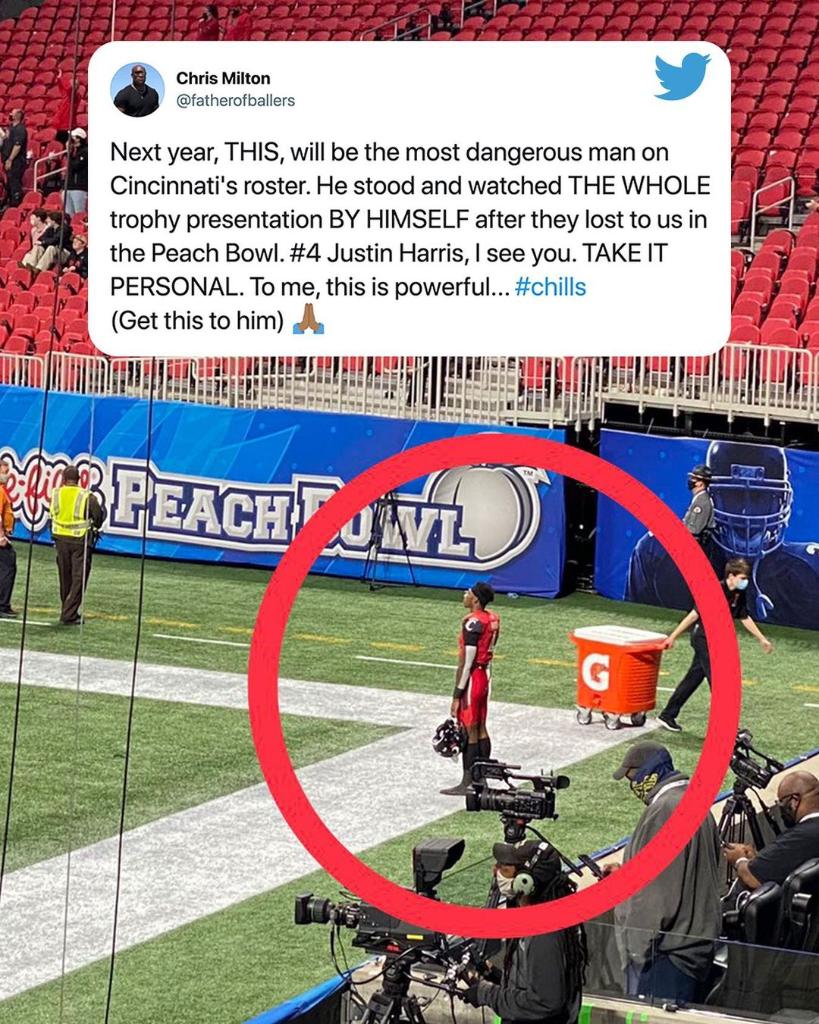 The rest of the cornerback room for the Bearcats has had plenty of game experience, but hasn't had the accolades or statistics that Sauce, Coby, or Arquon have, but they've been important to the Bearcat program.  Juniors Justin Harris, who I think is going to have a break out year, and Taj Ward lead the reserves with both having played significant time last season. Sophomores Todd Bumphis and Sammy Anderson are poised to have break out seasons after appearing in two games a piece last season and De'Arre McDonald should see the field as well.  I don't expect the freshmen to see much action this year.  Hometown Hero from LaSalle Iesa Jarmon and Malik Rainey from Chicago look to spend their year getting accustom to college and possibly getting some action against Murray State.
Overall, the Bearcats have 3 solid starters at the cornerback position and have experienced players in reserve roles.  I look for them to pick up where they left off last season, having one of the best secondaries in the NCAA and continuing to be a nightmare for opposing Offensive Coordinators.
Juncta Juvant!