11/23/18 – ECU Pirates @ Cincinnati Bearcats
Not much to say about the UCF game – they are one of the best teams in the country and our Bearcats are one of the biggest surprise, up-and-comers in the country. We are incredibly proud of this squad and, despite not being quite on that level yet, have no doubt that our time is coming…
Moving on…it's time to come back to Nippert to honor our Seniors:
Kahlil Lewis – WR
Tyrell Gilbert – CB
Malik Clements – LB
Hayden Moore – QB
Chris Murphy – S
Marquise Copeland – DT
Tinashe Bere – LB
Kevin Mouhon – DE
Kimoni Fitz – DE
Keith Minor – OL
Kyle Trout – OL
Dino Boyd – OL
Garrett Campbell – OL
Chris Ferguson – OL
Cortez Broughton – DT
With a W against East Carolina, the Bearcats will secure 10 wins for just the 7th time in program history and will have an opportunity to later tie the 2nd best win total (11) in program history during bowl season. The Pirates may be just what the doctor ordered…
ECU (3-7) is:
allowing 398.20 yards/game / Bearcats average 441.5
allowing 155.6 rushing yards/game / Bearcats average 237.3
allowing 242.6 passing yards/game / Bearcats average 204.3
averaging 456.6 yards/game / Bearcats are allowing 288.7
averaging 144.2 rushing yards/game / Bearcats are allowing 103.5
averaging 312.4 passing yards/game / Bearcats are allowing 185.3
Tailgate info:
What: Cincinnati Bearcats host the ECU Pirates.
When: Friday, November 23, 2018. Kickoff time is 3:30pm, we plan to have the trailer in place by 11am.
Where: Tailgate Alley at the Grid, Sigma Sigma Commons, University of Cincinnati main campus – spot #3. Park in a garage or on nearby streets and walk over to the tailgate. If you'll already be at The Grid, feel free to stop by to say hello!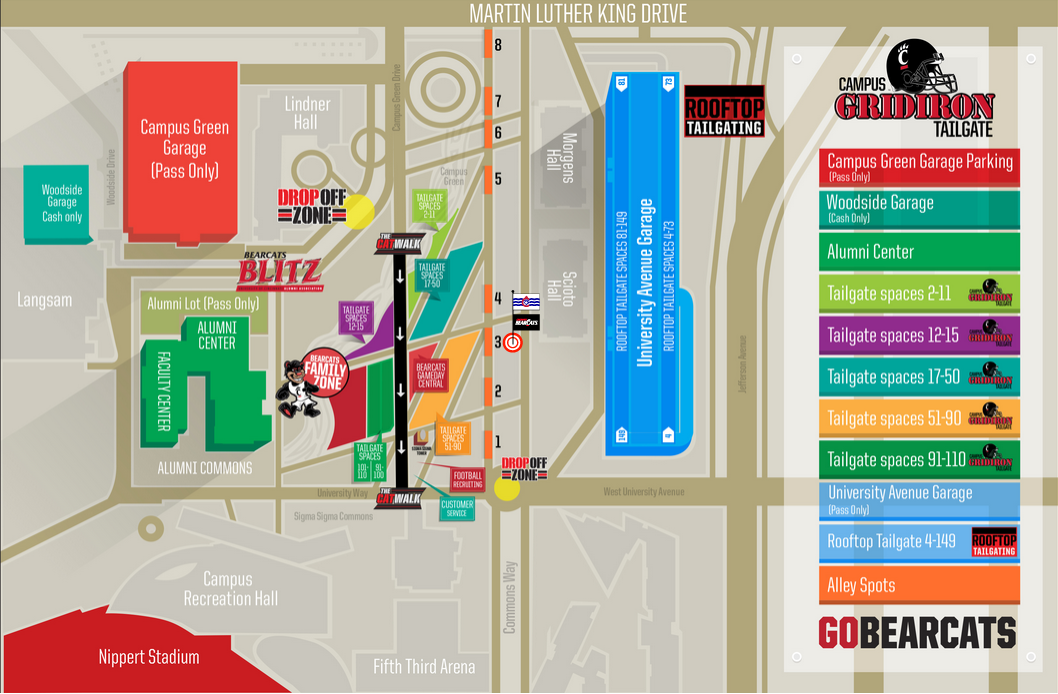 Who: All are welcome! This is a "community" style tailgate – BYOB. We always have extra food, but plan accordingly if you intend to eat. Most importantly, come prepared to have fun!
You're welcome (and encouraged) to contribute – feel free to bring some "community" beer to throw in the big, white cooler or stuff some money in the donation box located near the food table. Contributions are not required but go a long way to helping our tailgate to grow.
Rules: In order to ensure a good time for everyone, please review our basic rules for tailgating.
Menu:
Fried Chicken
Grits
Mac & Cheese
Biscuits
Misc sides & desserts
Jello shots, canned beer, & water
More coming soon…
Please help us spread the word and feel free to reach out to us with questions/comments via twitter, facebook, or the comment form below.