10/08/22 – USF Bulls @ Cincinnati Bearcats
Homecoming 2022 has arrived! We'll be getting to The Grid early and encourage you to start your morning with a little College Gameday and a warm (or cold) beverage before you head to the parade.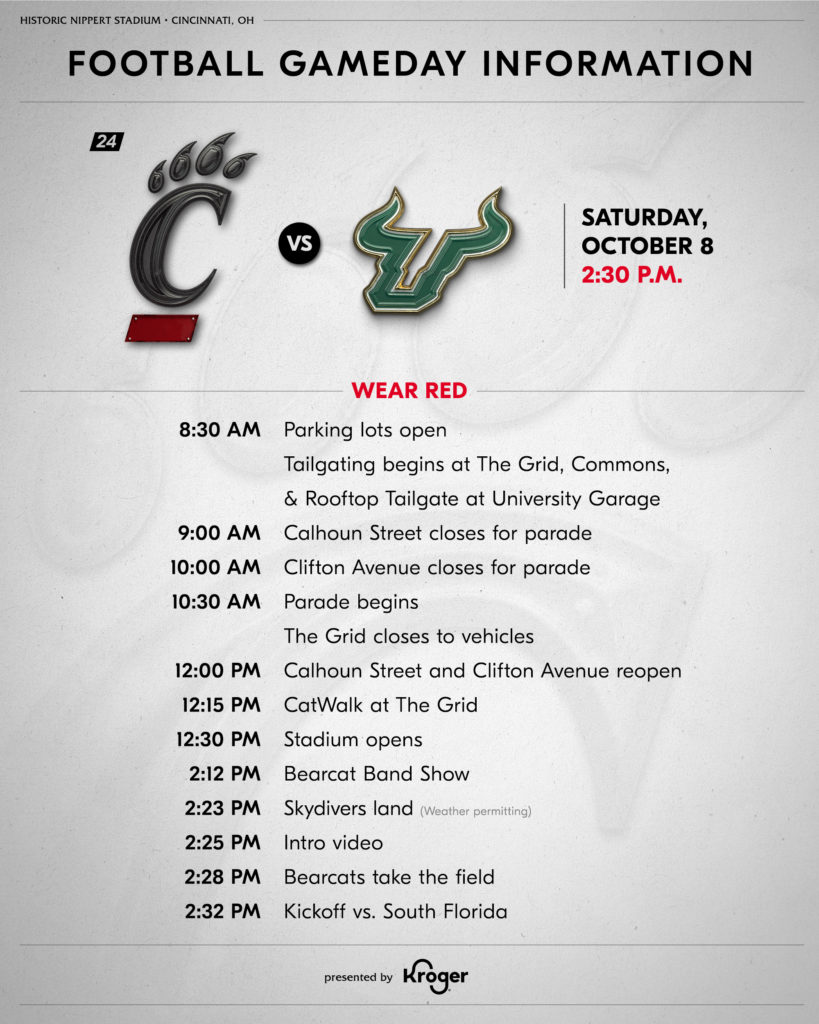 This year's opponent is one of our longest current foes, with consecutive match-ups since 2003, spanning Conference USA, the Big East, and now the American. With the Bearcats currently leading the series 12-7, we're hopeful that this will be the final game against another Florida directional school. Despite many fond memories against the Bulls, including Zach Collaros coming in for an injured Tony Pike and becoming a UC legend, our group was at the 27-65 loss in Tampa in 2015 and would be happy to never have a reminder of that season (and the former coach).
Only 3 more home games (guaranteed) after this one, so do your part to keep the Nippert winning streak alive! Go Bearcats!!
Tailgate info:
What: Cincinnati Bearcats host the USF Bulls.
When: Saturday, October 8, 2022. Kickoff time is 2:30pm, the trailer will be set up by 9:30am and we will begin cleaning up/tearing down around 1:30pm to allow plenty of time for everyone to get to their seats prior to kickoff.
Where: Tailgate Alley at the Grid, Sigma Sigma Commons, University of Cincinnati main campus – spot #3. Park in a garage or on nearby streets and walk over to the tailgate. If you'll already be at The Grid, feel free to stop by to say hello!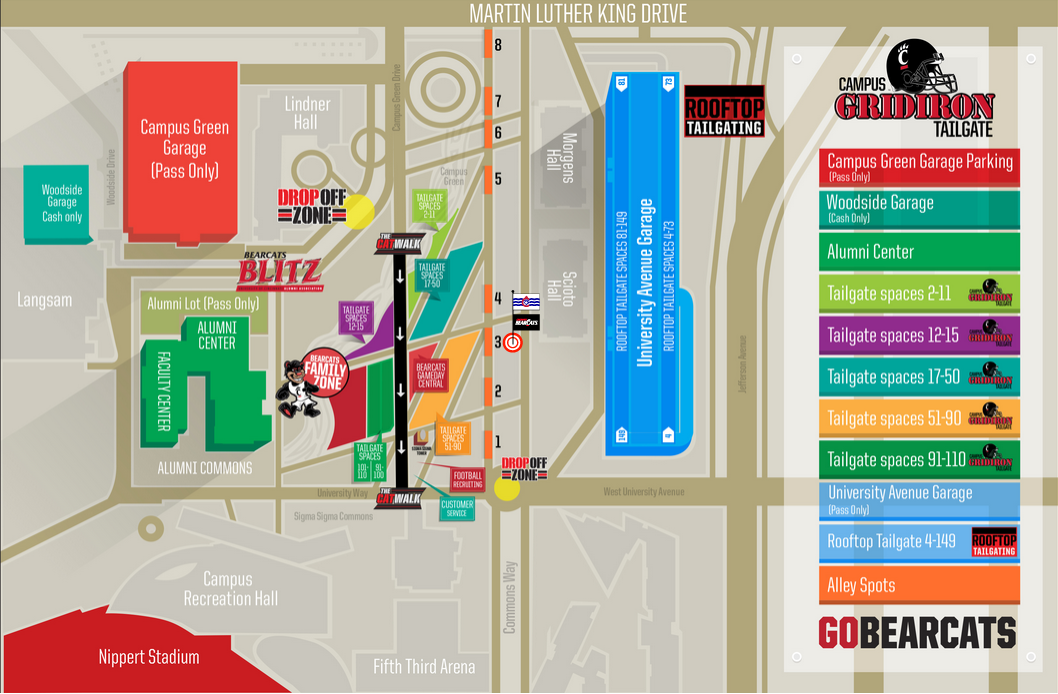 Menu:
Breakfast:
Donuts
Water, coffee, and mimosas
Lunch:
Cheba Hut Pinners ("toasted" subs)
Smoked Wings
Various sides & desserts
Water, Capri Suns (for the kiddos), domestic beers, and seltzers
Who: All are welcome (as long as you can abide by some simple rules)! This is a "community" style tailgate. We always have extra food, but plan accordingly if you intend to eat.
---
Special thanks to Cheba Hut!
Check them out at 2614 Short Vine & Give them a follow on Instagram
They'll be selling food at the Family Fun Zone on Sheakley Lawn starting at 12:30pm
Gameday in store promo – FREE Coors Light draft with purchase of a Pinner!
Post Game Munchie HQ – show your Bearcats ticket stub after the game for a Pinner, chips, and a drink for $9.99!
---
If you'd like to contribute this week, our biggest areas of need are:
Bring a 6/12 pack of light domestic beer – CANS ONLY – if the coolers are already stocked, just put them in the trailer for future tailgates
Money helps the most for our next home tailgate on 10/9 for Homecoming vs USF:
Please help us spread the word and feel free to reach out to us with questions/comments via twitter, facebook, instagram, or the comment form below.